Il Comune di Montecchio Emilia e l'Associazione culturale artMacs presentano, dal 20 maggio al 26 giugno 2022, "Dear Universe", mostra personale della giovane artista messicana Fernanda Carrillo, vincitrice della prima edizione del "Premio Massimiliano Galliani per il disegno under 35", dedicato al disegno e alla ricerca visiva emergente.

L'esposizione sarà inaugurata venerdì 20 maggio, alle ore 18.00, negli spazi di Casa Cavezzi.

LA MOSTRA
L'opera di Carri, nome con il quale Fernanda Carrillo firma le sue opere, è un dialogo interiore, una ricerca introspettiva nella quale i suoi stati d'animo si fondono a quelli di una natura in continuo divenire: potremmo chiamarla morfologia dell'anima e della natura.
Per Fernanda Carrillo l'arte è la cura e la terapia per superare momenti difficili, per aprirsi al mondo e connettersi con il pubblico; un po' come per Louise Bourgeois, artista che ha molto influenzato Carri, l'arte diventa uno strumento per affrontare i momenti difficili e poeticizzare i traumi.
Sperimenta materiali differenti e mette sempre in scena la sua vita, l'amore, le paure, la memoria. Nel suo lavoro spesso coesistono due segni, quello linguistico espresso con le parole e quello iconico, attraverso l'uso del disegno.
Con la mostra "Dear Universe" Carrillo esplora il suo rapporto con i sogni e con i desideri. Una serie di dipinti a olio inediti originati da testi involontari danno vita alla sua necessità di narrare e di essere letta, interpretata. Allo stesso modo nella serie "Dreams and Nightmares" utilizza materiali naturali come vino, caffè e aceto, dando vita a una sorta di diario visivo del suo inconscio, catturando e imprimendo idee, emozioni e sensazioni fugaci.
Così la scrittura e il disegno comportano un sollievo che deriva dalla materialità del gesto grafico, con lo scopo di concretizzare i sentimenti e metabolizzare le esperienze personali. Il rapporto con l'altro si manifesta anche attraverso la realizzazione di lavori che per Carrillo sono come dei diari, che nascono con carattere segreto, ma che qui diventano autobiografici e quindi espressamente rivolti a un pubblico, con l'obiettivo – attraverso la condivisione – di ridare senso e significato a tutto ciò che lei ha vissuto.
L'artista vede queste opere come un paesaggio primordiale e confessionale, uno spazio dove i sogni sussistono nel regno dell'astrazione. Parole, trame e gesti si incontrano dando forma a uno spazio in cui si realizzano le infinite possibilità della vita e prendono forma i desideri.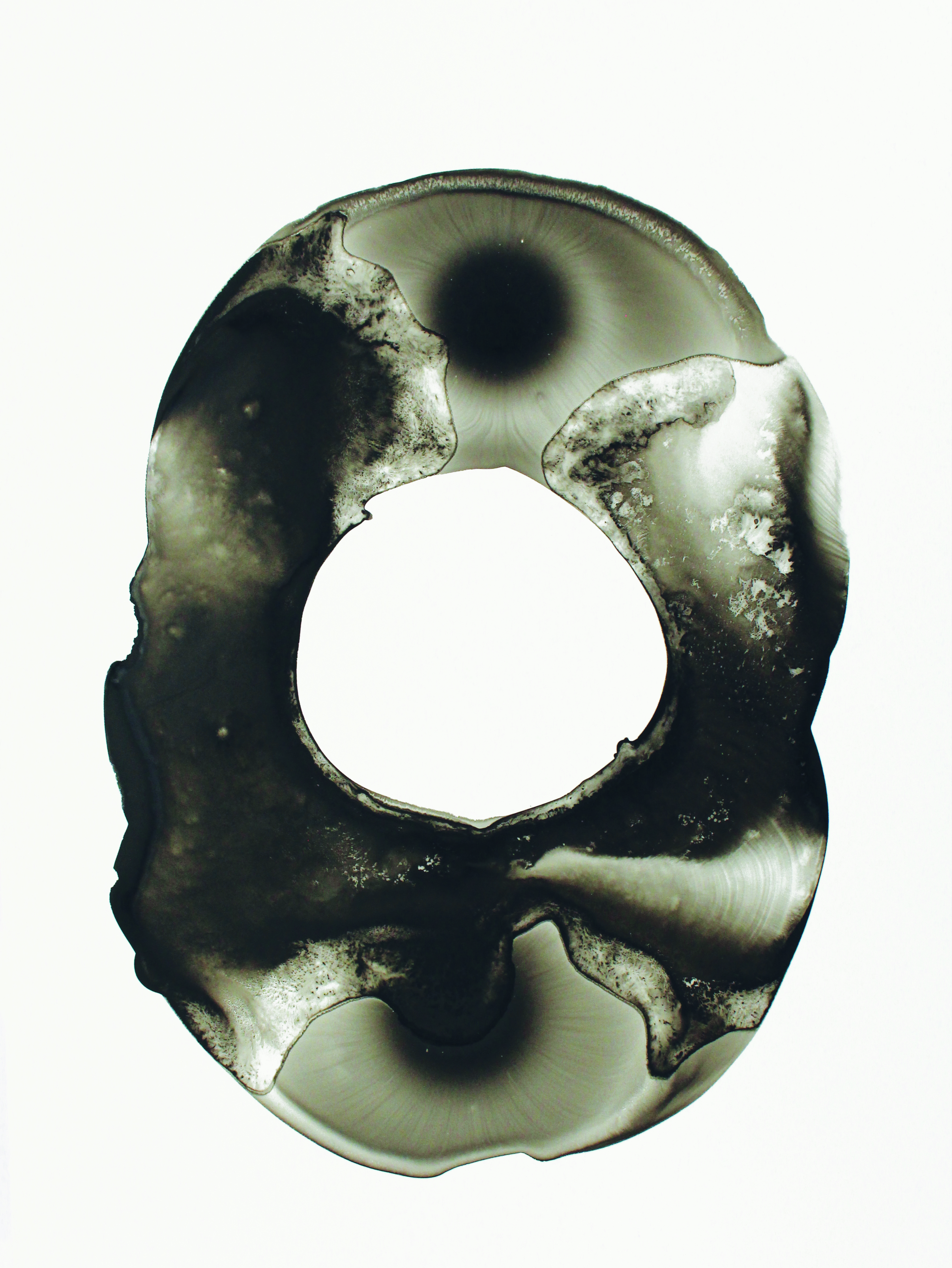 FERNANDA CARRILLO
Nasce nel 1995 a Città del Messico. Dopo essersi laureata in Architettura si è trasferita a New York dove ha consolidato il suo forte legame con l'arte. Ha iniziato a lavorare dapprima con installazioni per poi passare alla pittura e al disegno, da autodidatta. Sotto l'influenza di artisti come Louise Bourgeois, si ispira all'arte confessionale, combinando la sua pulizia visiva con frasi di una rivelazione intenzionale del sé privato. L'opera di Carri, nome con il quale firma le sue opere – è un'intima esternazione di temi ricorrenti nella sua vita e nel suo viaggio. Il suo lavoro include sculture, ceramiche e disegni, che riflettono diversi periodi della sua carriera. Spesso biografica, la sua ricerca esplora temi tra cui la famiglia, l'amore per se stessi e la paura. Dopo le mostre a Città del Messico e New York, Carri approda in Europa nel 2020 con A Pick Gallery.
EDUCATION
2015- 2019 Architecture, Anahuac University

SOLO SHOW
2021 ArtVerona Art Fair, curated by A PICK GALLERY, Verona (IT)
2020 Look at me, A PICK GALLERY, Turin (IT)
2019 The Faces Of My Voice, Elizabeth Collective, New York (USA)
2017 The Untold, Uno61 Gallery, Mexico City (MX)
2016 Now And After, Portamoda, Mexico City (MX)
2015 I Am Nobody, Galeria Torre Del Reloj, Mexico City (MX)

GROUP EXHIBITIONS
2021 Estampa Art Fair, curated by A PICK GALLERY, Madrid (ES)
2019 Art Fair, Fiaart, Mexico City (MX) Expo Pixan I, Mexico City (MX)
Us, El Consultorio, Mexico City (MX)
2018 Vol II, Tepeu, Mexico City (MX)
2017 Vol. I, Tepeu, Mexico City (MX)

COLLABORATIONS
Swarovski, No Fear Of Being Different
Intervention On Rivero Gonzalez Wine (New York & Mexico City)
Mezcal Design For, Tres Chicon (Germany)

PRESS
Magazine: Marie Claire, Harper's Bazaar, Chich House
Online Mag: Mujereologia, Dna Mag, Chic House, Marie Claire, Young Ignorantes, Coolhunterm, Meow Magazine.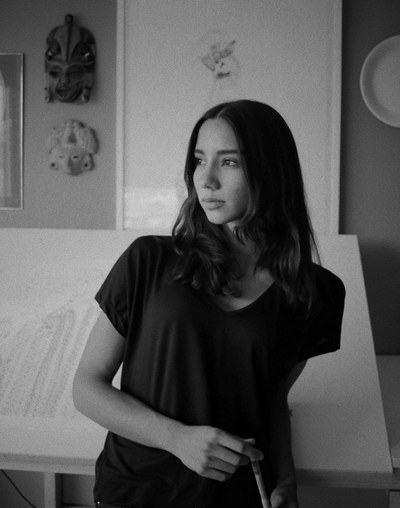 L'artista soggiornerà a Montecchio Emilia, ospite del Comune, nella settimana precedente l'inaugurazione della sua personale per lavorare alla produzione di alcune opere originali, che verranno presentate in anteprima assoluta proprio in occasione di "Dear Universe".
Evento a cura di Comune di Montecchio Emilia e artMacs, in collaborazione con A Pick Gallery Torino, ArtVerona, Associazione Culturale Vicedomini Cavezzi